Skip to Content
Emergency Dentistry Georgetown
Georgetown Emergency Dental Care Specialists
Georgetown Sleep Dentistry welcomes anyone to our Georgetown practice to receive emergency dentistry, whether they are a regular patient of ours or not. Our dental care is available to whoever contacts us with sudden or chronic pain in their teeth, gums, or mouth. Dental emergencies strike people at any age, and they rarely occur when it's convenient. We offer professional care whenever you need it by fitting you into the earliest time we can manage. When you call us with a dental emergency, let us know what your issues or symptoms are, and we will ensure you get the quick and efficient treatment you need.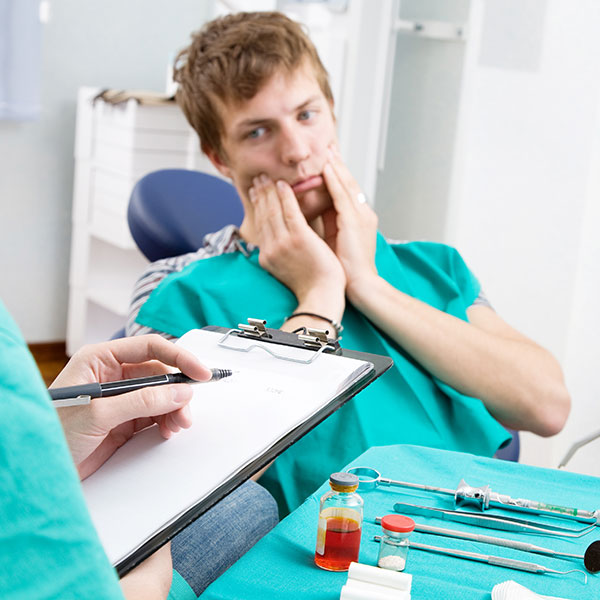 Warm & Caring Treatment to Relieve Pain
Whenever a dental emergency affects you, Georgetown Sleep Dentistry is ready to respond by bringing you into our practice as soon as we can. Our team of talented and friendly professionals keeps you comfortable and relieves your worry as we assess the damage and treat it. We work quickly and carefully to resolve the pain and restore your oral health using up-to-date technology and methods paired with a warm and caring environment. Toothaches, infections, and dental trauma can happen to anyone, and we strive to provide the best possible emergency treatment to every patient.
What Qualifies as a Dental Emergency
We recommend you contact us for professional help any time you experience dental pain or discomfort or have an oral issue. Accidents can occur suddenly and damage your teeth, gums, and mouth. You might trip and fall on the stairs and knock out a tooth or bite into a peach and break an incisor on the pit. Infections and toothaches can sneak up on you and inflict pain, sensitivity, and soreness. We believe in relieving the pain and resolving the dental issue as soon as possible to preserve your oral health and keep your smile beautiful. A dental emergency includes, but is not limited to, any of the following:
Knocked-Out Tooth
Broken Orthodontics
Wisdom Tooth Pain
Inflammation
Emergency Root Canal Treatment
Cracked or Broken Tooth
Toothache
Emergency Cosmetic Repairs
Dental Crown Repairs
Prompt Dental Care at Our Georgetown, Practice
Every patient is a priority at Georgetown Sleep Dentistry, whether they visit us for routine care or a dental emergency. If you experience sudden pain or damage to your teeth or oral cavity, we are ready to provide prompt dental care so that you don't endure your trauma or symptoms any longer than is necessary.
Schedule an Appointment With Our Dental Team